DEGEN DE1103
This is a review of the Degen DE1103 - a small portable radio receiver capable of receiving longwave, mediumwave and shortwave with continuous coverage up to 29 999 kHz with SSB support on all bands, plus the OIRT/CCIR FM broadcasting band ranging from 76 to 108 MHz. The receiver is also exported to the U.S. under the brand Kaito KA1103 in the silver color variant.
FRONT VIEW
The radio is very well built with a sturdy metal faceplate in the front. It boasts a big orange-illuminated display (almost as big as the speaker inside), however the overall look is kept simple, with emphasis to recreate the old analog tuning feel: there is no physical moving "needle", but a simulated digital marker indicating the approximate frequency we're tuned to. Otherwise, the receiver is fully digital and has an exact frequency readout clearly visible on the display. There are buttons to switch the receiver on and off, to reset in case of erratic behavior, to set or invoke the memory presets,to switch between AM or SSB reception (the same button functions as a switch between mono or stereo reception on FM), a HOLD button, a time invoke/adjustment button, two buttons to change or scan in the simulated radio bands, and finally the most anticipated is the volume adjustment button, since the radio has no dedicated volume knob. And of course there's a keypad present, which is, due to the large display, stylized in a horizontal row of buttons: these are a bit inconvenient for users with larger fingers.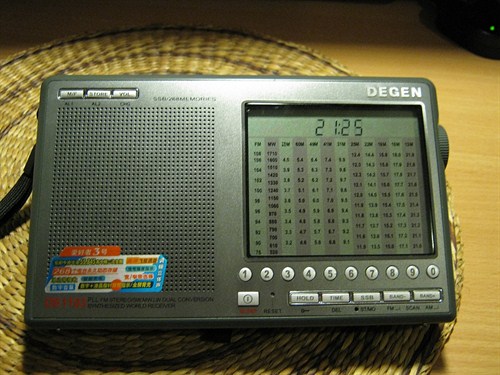 SIDE/BACK VIEW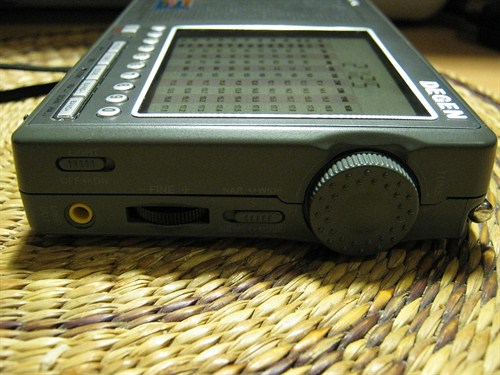 On the right side of the receiver there's the multi-purpose jog dial, which is used for manual tuning, to set the volume, clock, battery charging hours, memory presets etc. Next is the SSB fine-tune knob, a true LINE-OUT jack, a narrow/wide filter selector and the light switch: the illumination is not very bright, but very useful in the night, plus all front panel buttons are illuminated too!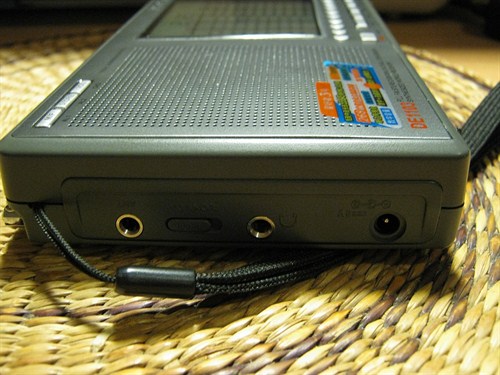 On the left side we have an external antenna connector which is a simple 3.5mm mono jack really...Right below it is the antenna attenuator switch, plus a 3.5mm headphones jack for a good measure, it is capable of stereo reception on FM. Finally, there's an external power source connector for charging batteries or using the receiver from mains.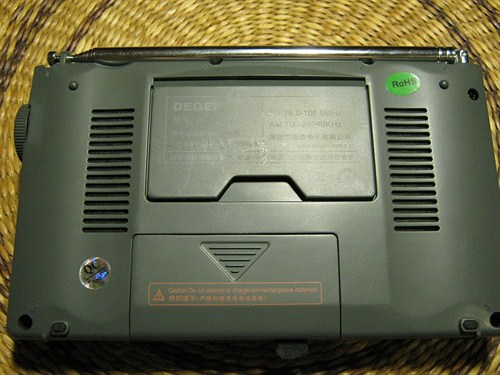 The back side is real simple: a standard telescopic whip antenna, battery compartment door for 4 AA's and the folding back stand are present.
FUNCTIONALITY
LW, SW, MW coverage 100-29999kHz, FM 76-108MHz, tuning step 1kHz for LW, MW, SW and 25kHz for FM
255 memory presets; permanently stored in the EEPROM even when no batteries are installed!
Two independent alarm functions, a sleep function and the 24-hour clock
Signal strength meter and battery charge status shown in a bar-graph
Single-sideband reception with the integrated BFO
Jog-dial, scan and direct frequency input tuning; no muting while tuning!
A real powerful speaker, 64 volume levels!
QRM-free illumination of the display and all front buttons
1m whip antenna, 5m supplied external
A simple antenna attenuator plus a narrow/wide filter switch
Internal battery charging option with the possibility to listen to the radio while recharging
SMALL QUIRKS & INTERESTING THINGS
Firmware bug: There's a possibility to turn off the internal ferrite antenna for LW/MW (the receiver will switch on the whip/external for these bands) and to tune below 100kHz: turn attenuator on, enter "1711 kHz" AM, scan down, interrupt the scanning process when it goes under 100kHz, save it to memory for easier access. Now you must use only the jog dial to keep the receiver in this mode; to resume normal operation, type any new frequency on the keypad. Tuning "past 0 khz" will display something like 39999 kHz on the display...
To change the volume, you have to press the VOL button, tune the jog dial to the desired volume level and let it 2-3 seconds in that state to if you want to resume tuning again. If you do not want to wait, press TIME after setting the volume and you can tune again instantly. Please note that the desired volume level can be set directly with the keypad, too.
The receiver has continuous coverage indeed, however while tuning with the jog dial you will eventually be trapped in one of the simulated radio bands, for example in the 49 meter band from 5500 kHz to 6500 kHz. Tuning past 6500kHz will return you back to 5500kHz and vice-versa, to overcome this barrier, you have to direct enter a frequency 1 kHz higher or lower than you want to go and tune forwards or backwards with the jog dial (for example 5499kHz or 6501kHz), you can also save these "escape frequencies" to memory as I did. Or you can use the buttons BAND- and BAND+ to browse through the preddefined simulated meter bands. This is one of the major cons of this receiver.
The receiver does not mute while tuning with the jog dial, however, some faint ticks/beeps of the PLL circuitry are heard when doing this.
Unless the receiver is AC-powered, the illumination (when switched on) will stay active only for 15 seconds. To invoke it back on you have to press any front button. Pressing TIME is the preferred way to go, as it does not change anything currently set up.
Memory presets are indexed in hexadecimal. So after 09 there goes 0A till 0F, then 10 and so on.
Some revisions have a warbly SSB reception when the unit is shaken while on. Tightnening the screws inside or gently pressing the case may help.
WHAT YOU'LL GET IN THE BOX (purchased from tquchina @ eBay.co.uk):
The receiver itself
Four rechargeable AA NiMHs, 1300mAh, with the brand name DEGEN
5 meter longwire antenna
Small earbuds with the name "DEGEN"
AC, transformer-type (QRM-free) charger adaptor, 230V or 110V
English instruction manual
A thin velcro carrying pouch (This itself is a joke)
I got my receiver for 49 EUR including shipping.
MAIN PROS:
It's a PLL dual conversion receiver -> excellent sensitivity and selectivity on all bands! It is the same level as Eton E5 (Grundig G5) and Tecsun PL-600 and easily beats Sangean 505, Grundig Yachtboy 400 and others.
Very compact, small weight, sturdy, well built receiver. Excellent assembly quality for a Chinese product!
Moderate current consumption. Freshly charged batteries will give out about 10-15 hours of continuous play (depends on the volume setting and their capacity).
Nice tuning without sound muting.
Automatic orange illumination of the display and all front buttons, if set on.
Nice and stable SSB reception.
Line out and headphones jacks, good and loud speaker sound.
The biggest: PRICE. This receiver is a real bargain for its features!
MAIN CONS:
The new revisions with the "CNR" sticker on the speaker are prone to overloading with the external longwire antenna on shortwave bands. Disabling the external antenna preamplifier on the circuit board will permanently solve this problem, but will introduce two minor ones. A practical solution is to have the internal attenuator in the "LOCAL" position when audio distortion or intermodulation symptoms are observed. An external antenna attenuator is the best solution.
I don't like the analog dial recreation (plus the simulated meter bands in segments), IMHO very much space has been wasted by the display. For those who want a classical keypad and a smaller display, go for Eton E5/Grundig G5, it has almost the same parameters as Degen DE1103 has. But its price tag is WAY too high.
Inconvenient volume adjustment. One gets used to it, but it is more time-consuming.
No center stop on the SSB fine-tuning knob, it takes a bit practise to tune in the sidebands correctly. If you forget in which direction have you tuned the knob, you will not know if you're receiving USB or LSB.
OVERALL RATING: 85% (4.25 out of 5 points)
-Climatex